White Cliffs of Dover Maps
Enter your search query in the box below.
Home > Maps of England > White Cliffs of Dover Maps
Welcome to our White Cliffs of Dover map page. The map of the White Cliffs of Dover that is located below is provided by Google Maps. You can "grab" the electronic map and move it around to re-center the map. You can change between standard map view and satellite map view by clicking the small square on the bottom left-hand corner of the map. Satellite map view utilises orbiting satellite and / or aerial high-resolution photography to display images of the map location to street level detail (really quite amazing). Standard map view shows a traditional street map (also known as a road map). You can use the zoom buttons on the bottom right-hand side of the map to zoom in or out to street level detail. We have digital online maps for most towns and cities on the Maps of England page. We also have a good collection of old school printable maps on the Maps of England page.
I hope you like the White Cliffs of Dover, England street map / road map situated above.
If you like our website, please consider adding a link to the site. These links help to build website traffic and they are considered a vote of confidence for a site.
The white cliffs of Dover are cliffs which form part of the British coastline facing the Strait of Dover and France. The cliffs are part of the North Downs formation. The cliff face, which reaches up to 106 metres high, owes its striking fašade to its composition of chalk (pure white calcium carbonate) accentuated by streaks of black flint. The cliffs spread east and west from the town of Dover in the county of Kent, an ancient and still important English port.
The cliffs have great symbolic value for Britain because they face towards Continental Europe across the narrowest part of the English Channel, where invasions have historically threatened and against which the cliffs form a symbolic guard. Because crossing at Dover was the primary route to the continent before air travel, the white line of cliffs also formed the first (or last) sight of the UK for travellers.
A Map of the White Cliffs of Dover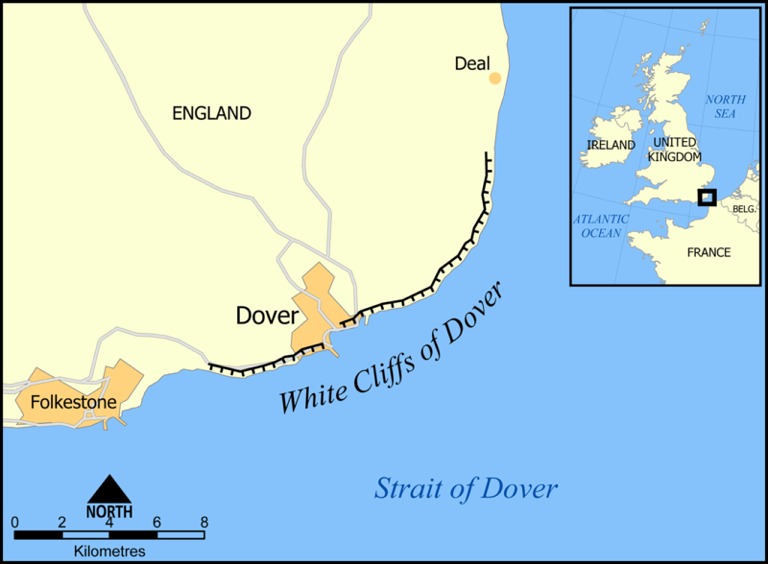 From Wikipedia, the free encyclopedia