30 St Mary Axe from Leadenhall Street
Enter your search query in the box below.
Home > England Photo Gallery > London Photo Gallery > 30 St Mary Axe
30 St Mary Axe, also known as the Gherkin, towers over St Andrew Undershaft.
30 St Mary Axe (formerly the Swiss Re Building, and informally also known as the Gherkin) is a skyscraper in London's financial district, the City of London, completed in December 2003 and opened at the end of May 2004. With 41 floors, the tower is 180 metres (591 ft) tall, and stands on the site of the former Baltic Exchange, which was extensively damaged in 1992 by the explosion of a bomb placed by the Provisional IRA.
After the plans to build the Millennium Tower were dropped, 30 St Mary Axe was designed by Norman Foster and Arup engineers, and was erected by Skanska in 2001-2003.
The building has become an iconic symbol of London and is one of the city's most widely recognised examples of modern architecture.
A photograph of 30 St Mary Axe, London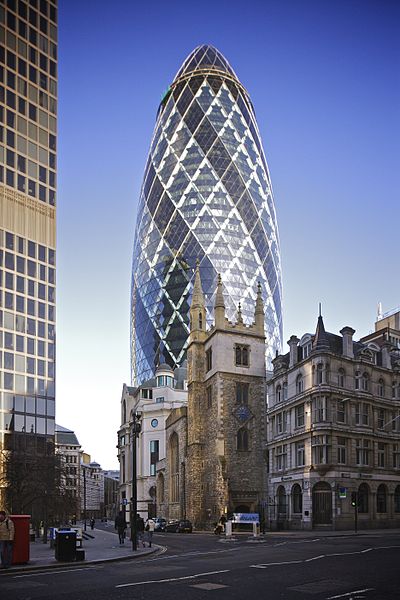 From Wikipedia, the free encyclopedia

This file is licensed under the Creative Commons Attribution-Share Alike 2.0 Generic license.

Author: Aurelien Guichard from London, United Kingdom