Maps of Oxfordshire England
Enter your search query in the box below.
Home > Maps of England > Oxfordshire Maps

Welcome to our Oxfordshire map page. The map of Oxfordshire England that is located below is provided by Google Maps. You can "grab" the electronic map and move it around to re-center the map. You can change between standard map view and satellite map view by clicking the small square on the bottom left-hand corner of the map. Satellite map view utilises orbiting satellite and / or aerial high-resolution photography to display images of the map location to street level detail (really quite amazing). Standard map view shows a traditional street map (also known as a road map). You can use the zoom buttons on the bottom right-hand side of the map to zoom in or out to street level detail. We have digital online maps for most towns and cities on the Maps of England page. We also have a good collection of old school printable maps on the Maps of England page.
A map of Oxfordshire, England
I hope you like the Oxfordshire County, England street map / road map situated above.
If you like our website, please consider adding a link to the site. These links help to build website traffic and they are considered a vote of confidence for a site.
I travelled extensively for 10 to 15 years trading campervans and motorhomes. I travelled in busses, ferries, planes, trains or taxis when picking up vehicles and after delivering them to customers. Mapping was very important to me. I often relied upon my smartphone, tablet or dedicated GPS navigation device to provide real-time point to point GPS routing. I drove many long hours in all sorts of weather conditions. I slept in the trade vehicles while transporting them from one location to the next. I saw the wonderful countryside as many others would never see it. I visited cities and towns and I stopped at many wonderful tourist attractions. I ate meals in eateries and I explored the land.
Oxfordshire
Abingdon | Adderbury | Ardington and Lockinge | Ascott-under-Wychwood | Bampton | Banbury | Benson | Bicester
Blewbury | Bloxham | Bodicote | Botley | Brightwell-cum-Sotwell | Burford | Carterton | Cassington | Chadlington
Chalgrove | Charlbury | Checkendon | Chesterton | Childrey | Chinnor | Chipping Norton | Cholsey | Clanfield
Clifton Hampden | Culham | Deddington | Didcot | Dorchester | Drayton | East Hagbourne | East Hendred
Enstone | Eynsham | Faringdon | Fernham | Frilford | Fritwell | Garsington | Goring | Great Milton | Grove | Harwell
Henley on Thames | Holton | Hook Norton | Horspath | Islip | Kidlington | Kingham | Kingston Bagpuize with Southmoor
Kirtlington | Long Hanborough | Long Wittenham | Longcot | Longworth | Middle Barton | Milton | Nettlebed
North Moreton | Oxford | Radley | Rotherfield Peppard | Sandford-on-Thames | Shellingford | Shipton-under-Wychwood
Shrivenham | Sonning Common | South Moreton | Stanford in the Vale | Steeple Aston | Steventon | Stratton Audley
Sunningwell | Sutton Courtenay | Thame | Uffington | Wallingford | Wantage | Watchfield | Watlington
Weston-on-the-Green | Wheatley | Whitchurch-on-Thames | Witney | Woodcote | Woodstock | Wootton | Wytham
Oxfordshire Map
Oxfordshire is a county in the South East region of England, bordering on Warwickshire and Northamptonshire (to the north/northeast), Buckinghamshire (to the east), Berkshire (to the south), Wiltshire (to the southwest) and Gloucestershire (to the west).
The county has major education and tourist industries. The area is noted for the concentration of performance motorsport companies and facilities. Oxford University Press is the largest firm among a concentration of print and publishing firms; the University of Oxford is also linked to the concentration of local biotechnology companies.
The main centre of population is the city of Oxford. Other significant settlements are Banbury, Bicester, Kidlington, and Chipping Norton to the north of Oxford; Witney to the west; Thame and Chinnor to the east; and Abingdon, Wantage, Didcot, Wallingford and Henley-on-Thames to the south. Future population growth in the county is hoped to be concentrated around Oxford, Banbury, Bicester, Didcot and Witney, near the South Midlands growth area.
The highest point of the administrative county is White Horse Hill, in the Vale of White Horse, reaching 261 metres (856 ft). The highest point in the historic county is near Portobello Farm in the Chiltern Hills at 255 metres.
Oxfordshire's county flower is the Snake's-head Fritillary.
From Wikipedia, the free encyclopedia
"© OpenStreetMap contributors, CC BY-SA".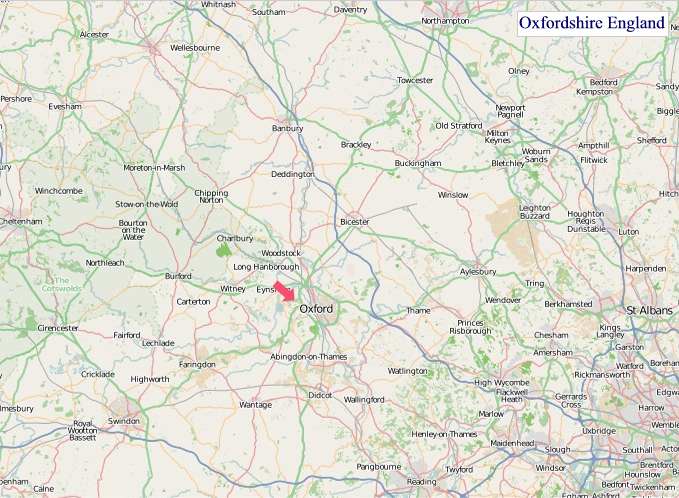 Districts of Oxfordshire County
1. Oxford
2. Cherwell
3. South Oxfordshire
4. Vale of White Horse
5. West Oxfordshire
Permission is granted to copy, distribute and/or modify this document under the terms of the GNU Free Documentation License, Version 1.2 or any later version published by the Free Software Foundation; with no Invariant Sections, no Front-Cover Texts, and no Back-Cover Texts. A copy of the license is included in the section entitled "GNU Free Documentation License".
From Wikipedia, the free encyclopedia