Windsor Castle Aerial Photograph
Enter your search query in the box below.
Home > Photos Gallery > Windsor Castle, Windsor, England
Windsor Castle, in Windsor in the English county of Berkshire, is the largest inhabited castle in the world and, dating back to the time of William the Conqueror, is the oldest in continuous occupation. The castle's floor area is approximately 484,000 square feet (44,965 square meters).
Together with Buckingham Palace in London and Holyrood Palace in Edinburgh, it is one of the principal official residences of the British monarch. Queen Elizabeth II spends many weekends of the year at the castle, using it for both state and private entertaining. Her other two residences, Sandringham House and Balmoral Castle, are the Royal Family's private homes.
Most of the Kings and Queens of England, later Kings and Queens of Great Britain, and later still kings and queens of the Commonwealth realms, have had a direct influence on the construction and evolution of the castle, which has been their garrison fortress, home, official palace, and sometimes their prison. The castle's history and that of the British monarchy are inextricably linked. Chronologically the history of the castle can be traced through the reigns of the monarchs who have occupied it. When the country has been at peace, the castle has been expanded by the additions of large and grand apartments; when the country has been at war, the castle has been more heavily fortified. This pattern has continued to the present day.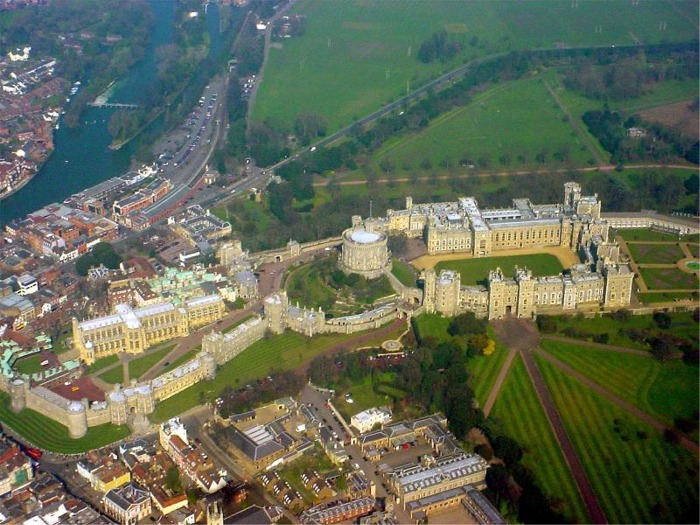 Permission is granted to copy, distribute and/or modify this document under the terms of the GNU Free Documentation License, Version 1.2 or any later version published by the Free Software Foundation; with no Invariant Sections, no Front-Cover Texts, and no Back-Cover Texts. A copy of the license is included in the section entitled "GNU Free Documentation License".