Canterbury Cathedral Photograph
Enter your search query in the box below.
Home > Photos Gallery > Canterbury Cathedral in Canterbury, Kent
Canterbury Cathedral in Canterbury, Kent, is one of the oldest and most famous Christian structures in England. It forms part of a World Heritage Site. It is the cathedral of the Archbishop of Canterbury, currently Justin Welby, leader of the Church of England and symbolic leader of the worldwide Anglican Communion. Its formal title is the Cathedral and Metropolitical Church of Christ at Canterbury.
Founded in 597, the cathedral was completely rebuilt between 1070 and 1077. The east end was greatly enlarged at the beginning of the 12th century and largely rebuilt in the Gothic style following a fire in 1174, with significant eastward extensions to accommodate the flow of pilgrims visiting the shrine of Thomas Becket, the archbishop who was murdered in the cathedral in 1170. The Norman nave and transepts survived until the late 14th century when they were demolished to make way for the present structures.
Before the English Reformation the cathedral was part of a Benedictine monastic community known as Christ Church, Canterbury, as well as being the seat of the archbishop.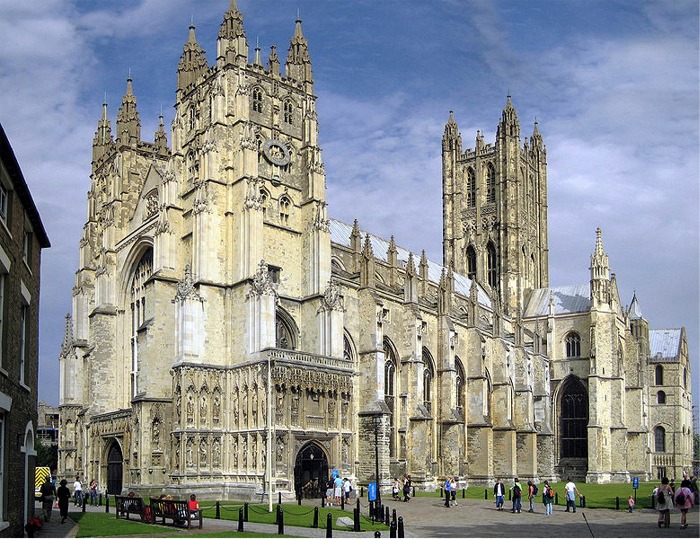 Permission is granted to copy, distribute and/or modify this document under the terms of the GNU Free Documentation License, Version 1.2 or any later version published by the Free Software Foundation; with no Invariant Sections, no Front-Cover Texts, and no Back-Cover Texts. A copy of the license is included in the section entitled "GNU Free Documentation License".